Quick and refreshing recipe: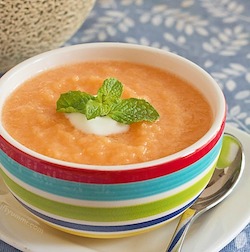 Ingredients:
1/2 medium cantaloupe(musk melon) peeled seeded and cubed this will make 4 cups of cubed cantaloupe
1/2 cup plain yogurt
2 tablespoon sugar
1 tablespoon finely chopped ginger
6-8 mint leaves
1/4 teaspoon salt
Pinch of black pepper
1 tablespoon freshly squeezed lemon juice
Method:
In a blender puree ginger, mint leaves with half the melon. Add remaining melon, yogurt, sugar, salt, pepper and lemon juice. Blend until it is smooth.
Refrigerate for best taste. Keep in freezer for about half an hour before serving.
Notes
Try any variety of melon in this recipe.