Empathy is typically defined as
1)The Affective capacity to share in another feeling
2)The cognitive ability to understand another's feelings and perspective
It also includes capability to communicate, means the action of understanding ,being aware of ,being sensitive to one's feelings, thoughts and experiences.Empathy is seeing with the eyes of another, listening with the ears of another and feelings with the heart of another.
Today it is need of the hour to develop this character traits. We can easily see that today's generation is more into aggression and intolerance the reason can be many but we need to find the real cause of it . Parents , caregivers and the educators plays an important role as they all are in direct contact of students and they can motivate and encourage them to be empathetic towords others.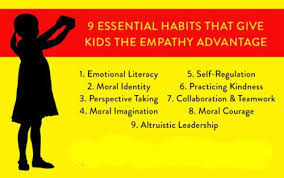 Following can be practised to develop an empathetic behaviour in kids
1)Explaining the kids the effect of their behaviour on others.
2)Pointing out to children that they have power to make others happy.
3)Parental modelling of empathetic caring behaviour
4)Explaining to children who have hurt or distressed others why their behaviour is harmful and giving them suggestions for making amends to those hurt.
5)Encouraging school age children to discuss their feelings and problems
6)Responsive nonpunitive non-authoritarian behaviour of mothers towards their preschool children.
Helping young children to develop a strong sense of empathy is beneficial as it builds strong relationship with other children ,helps them in learning, encourages tolerance and acceptance of others ,build a sense of security and promotes good mental health.